Greg Squared is the preferred alias of woodwind player, teacher and composer Greg Schneiderman. His instantly recognizable voice on saxophone, clarinet and flute, comprising soulful expression and hard-driving chops, can currently be heard in his New York-based ensembles: Raya Brass Band, Sherita and Great Circles, as well as other random situations that present themselves.
In years past, his distinctive sound and expressive playing have figured prominently in such mainstays of the New York brass band and Balkan music scenes as: the anarcho-punk brass ensemble, the Hungry March Band, where he was pillar of the sax section for almost eight years; Ansambl Mastika, a group he lead from 2005-2011, and which exclusively featured his compositions and arrangements; Staggerback Brass Band, the shortlived, weirdo brainchild of accordion virtuoso Patrick Farrell; and Veveritse Brass Band, a group devoted to staying in touch with the cutting edge of the Serbian brass band scene.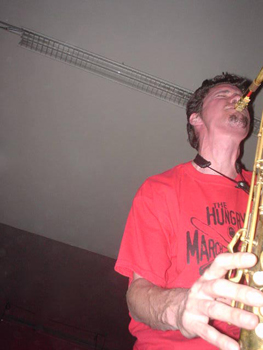 After completing his bachelors degree in 1998 at UC San Diego, where he studied with ground-breaking improvisers George Lewis and Bertram Turetzky, Greg went on an eight-month journey in Spain. During this time hitchhiking and busking throughout Iberia, he was exposed to a wide variety of musics very different from any he had yet experienced. He came to view styles like Flamenco, Arabic and North African music, Romany (Gypsy) music, Sephardic and Klezmer music every bit as intriguing as the rock, jazz, free improvisation and classical styles with which he, as an American, was more familiar. In the tradition of great jazz saxophonists like John Coltrane, Yusef Lateef and Steve Lacy, he began exploring the interrelatedness of these Eastern styles and how they might influence his own playing.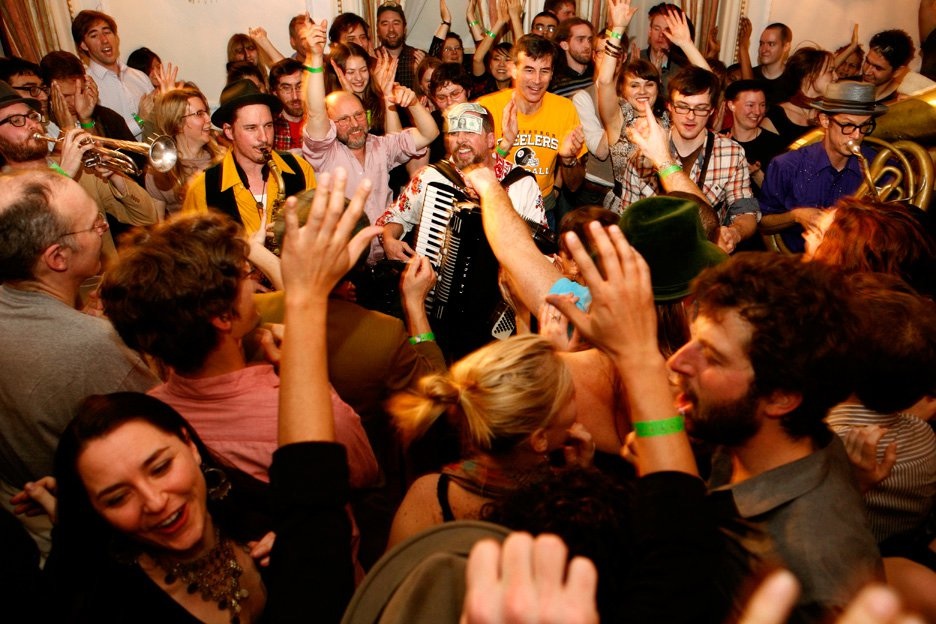 Additional travel, this time in the Balkans, opened opportunities for him to learn directly from a host of influential players, including Selim Sesler, Ferus Mustafov and the late Sami-Buco Zekirovski (of Esma Redzepova's band), as well as U.S.-based players like Souren Baronian, Matt Darriau, George Chittenden, Lefteris Bournias, Ismail Lumanovski and Sal Mamudoski. During this time Greg began to gain a deeper understanding of makam, the theory of modes that underpins so much of Balkan and Middle Eastern music, and which has become the point of departure for so much of his own compositional work.
Meeting and playing with such masters of style and genre as these inspired Greg to resume study in an academic setting. In 2010 he began working towards a graduate degree at Queens College under the classical saxophone virtuoso Paul Cohen. At Queens he also developed a curriculum for the Queens College Balkan Music Ensemble, which he directed for one semester before graduating in 2012.
Since completing his masters degree, Greg has been active gigging with Raya Brass Band and Sherita. With these groups, as well as a variety of pickup ensembles, he performs around 80 shows a year, both in the New York area and touring nationally. Venues where he has peformed include: Lincoln Center Out of Doors, Kennedy Center Millenium Stage, Philadelphia Museum of Art, New York Gypsy Festival, Atrium at Lincoln Center, Golden Festival, Joe's Pub, Le Poisson Rouge, Webster Hall, and of course, the ever-popular Barbes in Brooklyn.